We use the Cloud to innovate and create business value at scale, in a resilent and fault tolerant platform, bringing stability to your customers while shipping new features and applications.
These brings benefits that are almost impossible to achieve on pre-cloud arquitectures:
- more cost-effective IT services
- increased speed from quicker deployment
- improved security
We work with the major cloud providers: AWS, Google Cloud, Azure and Catalyst Cloud following a Cloud Native strategy.
Cloud Native?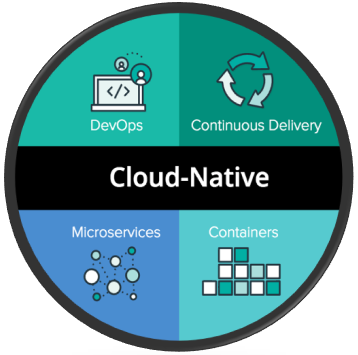 A Cloud Native strategy ensures that the effort that you and your team puts into building, deploying and operating your applications is portable across cloud providers and platforms.
This stategy brings Freedom of Choice, avoids vendor lock-in and exploits the benefits of cloud computing.
DevOps allows to move ideas from development to production very fast, reducing the time to market and increasing customers feedback.
All product names, logos, and brands are property of their respective owners.
All company, product and service names used in this website are for identification purposes only.
Use of these names, logos, and brands does not imply endorsement.